Parker Daley Garcia, Art Director, Curator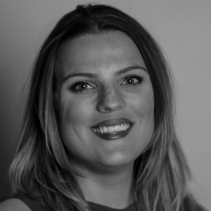 Parker Daley is the Art Director and Co-Curator for Pen + Brush. She believes in the power of art and, at the end of the day, she believes in living a life that makes an impact, that changes some small part of the world for the better. She views New York City as a religion, rather than a place. For more than a decade, Daley Garcia has studied art, specifically modern and contemporary art, and its role in shaping our world. She has studied art history, criticism, and museology, having receiving degrees from Ithaca College, Syracuse University, and the Institute for American Universities in Aix-en-Provence, France. Daley Garcia has been working at Pen + Brush since 2015 as part of the team responsible for the institution's relaunch and programming.
Daley Garcia has held numerous coveted positions in the art world, including those at prestigious art fairs such as NADA and SPRING/ BREAK in New York City. She has also taught coursework for The History of Modern Art:1850 – Present, at Syracuse University after being awarded a Teaching Assistantship for academic merit. For the past five years Daley Garcia has worked, alongside Dawn Delikat, to facilitate and curate acclaimed exhibitions at Pen + Brush, such as Lola Flash: 1986 – Present, which received reviews in the New York Times and various world-renowned arts publications.